How can I reuse my diptyque products and their packaging?
The following is a summary of the recycling instructions for each type of material and product:

The cardboard used in our packaging and the plastic parts (cartridges and packing) can be sorted and recycled.

Glass facial skincare and bodycare products can be sorted and recycled once the pumps and caps have been removed.

Candles in coloured glass jars, hourglass refills, eaux de parfum and eaux de toilette bottles made of glass can be sorted and recycled as long as the caps are removed first - you do not need to remove the pump or the metal part.

Although the Scented ovals, classic candles (190 g in transparent glass) and stoneware candles (1500 g) cannot be recycled they can be repurposed
The diptyque candle glass is a practical and decorative recipient that will bring a touch of character to a work space, make a stylish bathroom tidy or brighten up a living room. It could even be used as a small vase, a trinket bowl, a pencil pot, etc.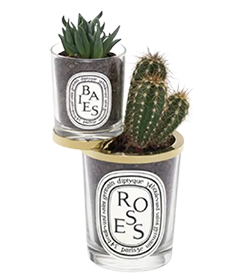 A candle is finished, and should not be relit, when only 5 mm of wax remains or the metal wick base becomes visible.
This is when the second life of the candle begins: the glass containers can be kept and used as you see fit, as bud vases, brush or pencil pots, tealight holders, etc.
Once your candle has burnt out, we recommend using this quick and easy method for removing the wax residue from the glass:

Wait for the burnt candle to cool, then put it in the freezer overnight.

The next day, take the candle out of the freezer and leave it at room temperature for an hour. Turn the glass upside-down and tap the bottom with the palm of your hand to remove the shrunken wax oval, using the handle of a spoon if necessary.

Remove the metal base that holds the wick with pliers if it is still stuck to the bottom of the glass.

Finish by wiping the inside of your glass with a damp, soapy cloth.